Release news Naviate for Revit
Naviate Accelerate December Release
Updates in Naviate Accelerate. Highlights include Cloud Content Manager, Provision for Voids and Publish IFC Files.

Changes is available in version 2023.1.3
Cloud Content Manager
Improved free text Search and some UI improvements.
You can now choose what data to search in when doing a free text search. In previous versions, the free text search was only for Family Names but now you can choose to search in Family Name, Type Name, Category and Family Groups (Tags) as well.

The pop-up UI for selecting Regions, Disciplines and Additional Filters can now be closed by clicking outside the pop-up.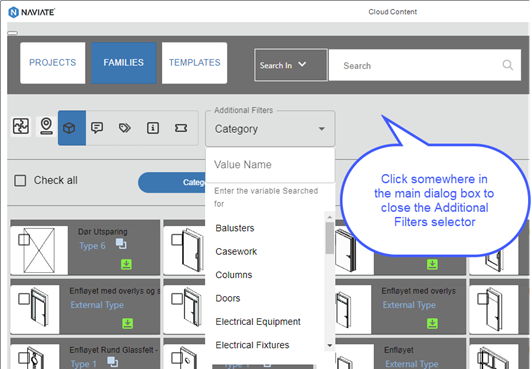 We have also added tool tips for the Model, Annotation, Tags, Details and Profiles buttons.
Provision for Voids
Easier updating of provisions when receiving updates and new tools for hiding/showing provisions in a view.
We have improved the Synchronize and Import tool to know from what provision element and what link the provision was created from. This helps you to understand what provisions that have been added, modified, or deleted when you get a new version of the linked file with updated provisions.
In Synchronize tool you can now filter to only see provisions from the selected link. And you also get a more detailed information of what has been changed when comparing to provisions that you imported from previous version of the link.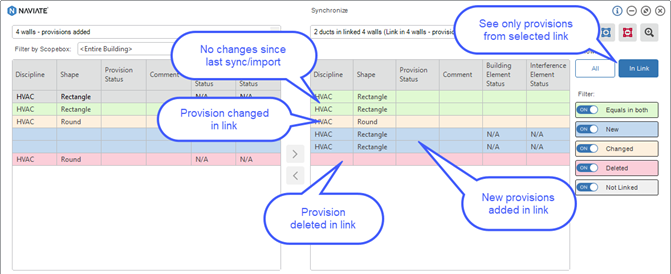 The Import tools has been updated to automatically add, remove, or modify provisions when reimporting provisions from an updated linked file. You are notified how many provisions that was added, changed or deleted.
We have also added new tools for turning on or off the visibility of provision elements in current view.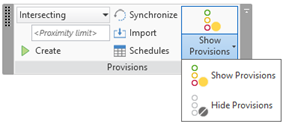 Publish IFC Files
Supports new Project Site settings in IFC Configuration.
Revit 2023 introduced new settings for Project Site. We have changed Publish to recognize and use the selected setting when exporting IFC files.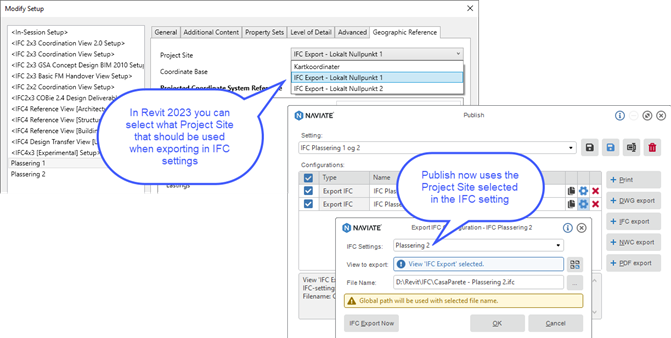 Fixes
Revit Cloud Worksharing: Fix to use Cloud Collaboration tools in Revit 2023.1 Update 1 (or later). Note! Uninstall all Naviate applications (including Help) except Accelerate and then apply this update OR uninstall all Naviate applications and install 2023.1.3 version to solve the problem.
Combine Parameters: Fixed issue with Phases for categories supporting To/From Room
BCF Manager: Fixed issue with missing information when reading some files in 2.1 format
Starting Naviate: Added a message if needed Arial (Regular) Font is missing
Edit Parameters: Some Parameters was missing when filtering on Editable parameters
Create new Revision: Fixed issue with always creating Numeric revision
Cloud Content tool: Fixes for bad internet connection and problem starting the tool on some computers
New Project: Fixed issue with using the tool while offline
Color Elements: Fix to support using non-English Revit language
Match Parameter Values: Fix to support using non-English Revit language
Place View on Sheet: Fix to support using non-English Revit language
Type Drawings: Fix to support using non-English Revit language