Release news Naviate for Revit
Naviate Landuse June Release 2021
Updates in Naviate Landuse. Improvements to general features such as Cloud Family Browser, e-learning integration and Parameter Configuration

Changes are available both in 2021.1.1 and 2020.1.6 if not otherwise stated in headlines.
Cloud Family Browser (2021.1.1 only)
A new way to find and insert Naviate families. You can now find the wanted family by free text search and/or by filtering on Category, Family group, Host type or Parameters.
Main features are:
Specify "content packs" to search in depending on installed applications
Find families by:

Main Category (Model, Annotation, Tags, Details & Profiles)
Revit Category – Select categories to see
Family Group – Select "sub directories" for viewing specific group of families
Family Host – See families based on their host type (Ceiling, Face, Floor, Roof, Wall, etc)
Family Parameters – Filter using a subset of common family parameters and their type values
Free text search on family name

See preview image of family (3 sizes available)
See Type information and Parameter values
Drag & Drop to insert into your project
Update family in your project using "Load Family" button
No need to have families installed locally on disc
New and updated families can be used immediately without installing updates of Naviate
Floating and resizable dialog box with possibility to minimise panels to reduce size on screen


Family Browser (2021.1.1 only)
The existing Family Browser tool is still available for search and insert of any families you have on disc. But since most families has been removed from the content packs you should use new Cloud Family Browser to insert Naviate families.
Installed content packs (2021.1.1 only)
The content packs installed on your computer based on application and region is now much smaller in size since they don't contain most of the Naviate families anymore. Families that are used by Naviate tools are still installed on your local disc. Most of them are installed as before in the Program-folder. Two tools (Component Browser in Norwegian version of Architecture and Advanced Text tool in Electrical and HVAC & Plumbing) still use families that are installed with the "content packs" in Program Data folder as before. Besides that, the content packs still contain Template files (.rte), Revit Project files (.rvt) containing System Family Types, Schedules, samples and other files used for configuration or PDF-files for help.
E-learning integration (2021.1.1 only)
It is now easy to get more information about each Naviate or Revit tool. As a subscription customer on Naviate you have access to Pinnacle Lite and can access material for Naviate, Autodesk products, Lumion, Enscape, Bluebeam & V-Ray. By using the Pinnacle User tools for Revit you get automatic access to information about the Naviate or Revit tool you use or related tools. Read more about the integration here.

 
Getting started with Pinnacle Lite:
Register and configure users. Information has been sent out to contact person (contract managers) for companies with Naviate Subscription users. More information here.
Login to e-learning portal using your login provided by the administrator of Pinnacle Lite at your company: https://portal.pinnacleseries.com/#/home or use the short cut in Naviate Help pull-down
Download Pinnacle User Tools (available at Home page on portal)
Activate Pinnacle User tools on your computer from your "User Profile" page in the portal by clicking "Activate on this Device"
Start Revit/Naviate and click on a tool and start exploring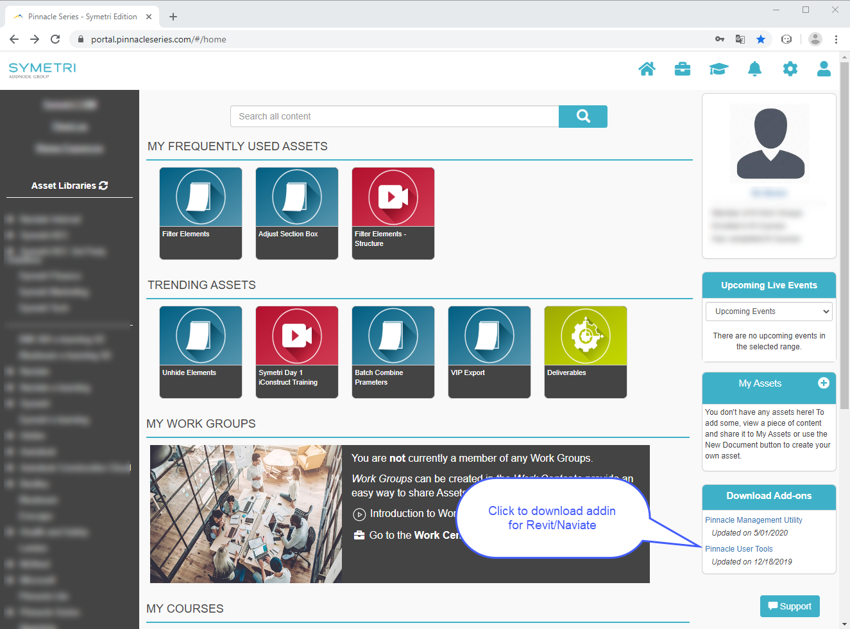 Download Pinnacle User Tools (available at Home page on portal)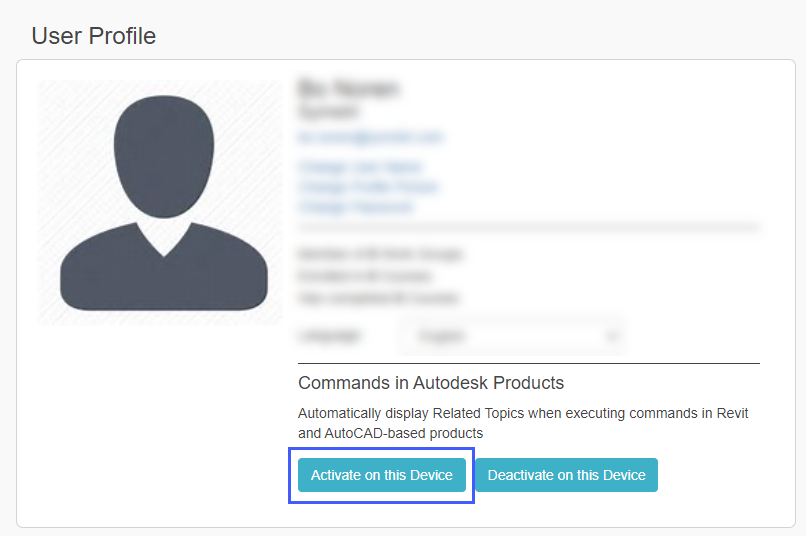 Activate Pinnacle User tools on your computer
You can also access the e-learning portal from Naviate Help pull down using the Knowledge Platform option. In the Help pull down you also find a short cut for contacting us via Live Chat. You are redirected to our chat tool where you can enter your personal information, topic of your question and start a chat with us.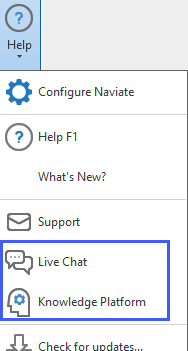 Parameter Configuration (2021.1.1 only)
This new tool that let you configure what parameters that Naviate updaters should write to. In this first version we added support for:
Shared Elevation
Shared Coordinates
Door & Window Tools (Naviate Architecture)
In previous versions these tools have been writing to fixed "CQ" parameters. Now you can choose what project parameter that should be used. The settings are saved per project. Select what parameter to use once in your project. Each updater will write to configured parameter. In existing projects, the old parameters are used by default until you change to use another parameter.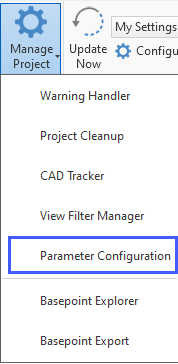 Improvements on General updaters (2020.1.6 and 2021.1.1)
We have improved updater tools in Naviate General regarding work-sharing and elements in groups. We have made following improvements:
Report elements that are locked by other users as excluded
Exclude elements that belongs to a Group and have a parameter that cannot vary in a group
Avoid locking elements by not updating parameters that already have correct value
Avoid reporting elements with parameters that have correct value as excluded even though they are locked or read-only
Show a report dialog also when the updater is run "manually"
Allow creating a 3D view showing only all excluded elements
The report dialog shows how many elements that was excluded and will allow you to create a 3D view showing only the excluded elements. This option is only available if elements was excluded and the elements are "Model" elements that are visible in 3D views.

Align IFC Links (2020.1.6 and 2021.1.1)
This new tool helps you to move and rotate IFC Links to correct location if they have been exported with a coordinate system not used in the Revit project. This is typically when you link IFC files created by other applications than Revit.
Bug fixes (2020.1.6 and 2021.1.1)
We have fixed the following issues:
Filter Elements: Improved stability for filtering in views and projects containing In-Place elements
Color Elements: Now show the Name for Worksets, not the ID
Sheet Manager – Create Dependent Views: Improved stability when copy views with modified Crop Regions
Sheet Manager – Create Multiple Sheets: Improved stability in Multiple View Mapping dialog box
3D Zone – Write parameters: Dialog box was not closing in some situations
Mirror Status - Settings was not saved when changed in Configure from Update Project
BFC Manager – User interface improvements when creating New issue using 1.0 format