Naviate for Revit
Naviate Accelerate release 2022.1.1
News include a renaming of General to Accelerate, an easier install process, a new user login and a new licensing system amongst others.

Easier install
Simplified install of Naviate applications.
We have made following changes
Each Naviate 2022 application has one install file, Naviate "N" 2022.msi.
We have removed the need to enter user or license information when installing.
There is no longer a country specific "content pack" installed for each application. Content such as Families and Project files with system families are now only available through Cloud Browser tool within Naviate. Project Templates are available with Naviate New Project tool. Configuration files like shared parameter files, DWG Export configuration files, Keynotes tables and Assembly Codes are installed with Naviate applications and can be found in the C:\ProgramData\Symetri\Naviate folder structure.
The install no longer updates the Revit.ini file. This means that you will not lose any personal settings that you have made in Revit when installing Naviate.
All general tools included in Naviate Architecture, Electrical, HVAC & Plumbing, Landuse, Structure and Site & Landscaping is now placed in a separate application, Naviate Accelerate (Naviate AC). The Naviate AC applications is included in the install of those application. But it can also be installed as a separate application.
All applications install an application named Naviate Help (Naviate HE) that contain the common Help tools.
Both Naviate AC and HE can be updated and uninstalled separately.
User login
We introduce Symetri User ID for authentication when using Naviate 2022 applications.
A Symetri User ID is needed to run all Naviate 2022 applications except for Naviate Rebar Extension.
Create a Symetri User ID
You can create a new account when you are asked to log in.
Accounts can also be created for multiple users by the license administrator at your company using the new Symetri License portal. See below.
First time you start Revit after installing Naviate 2022 you will be prompted to log in. Either create an account, use existing account for Naviate.com or an account that License administrator at your company has created for you.
The account you use will determine which of the installed Naviate applications you will have access to use. If no license is assigned to your account for an installed application you are asked to start a 1-month trial once.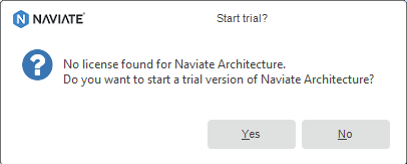 You will be remembered on the computer you log in on until you logout from Naviate. You will not need to login every time you start Naviate. After a long period of inactivity, you might need to enter your password again when starting Naviate.
You need to have internet access to create an account, log in and activate your license(s). After that you can run Naviate without internet access depending on your license type, see below.
You can use Revit without logging in to Naviate. The Naviate applications you have installed will be disabled. Click on "X" button when asked to log in.
You can see who is logged in to Naviate and also log out from the Help ribbon. You activate the Help ribbon from the Help button in each application ribbon.

Note! Naviate Rebar Extension will not require a Symetri account. It doesn't require a license to run.
Naviate licensing system
User based licensing of Naviate applications and new License Portal for user and license management.
Naviate 2022 applications uses a new licensing system based on the Symetri User ID. The Naviate licenses you have bought have to be assigned to user accounts (Symetri User IDs). This is managed in the new Symetri License portal.
If you have purchased Naviate licenses; you use the Symetri License portal to assign licenses to users. You need to be an administrator in the Symetri License Portal to do this. One person in your company (the contract administrator) has this access but it can be added to multiple users. Read more about the Symetri License portal below. See below.
You also have an option to start a trial period for 1 month for applications you install but don't have a license for.
The new licensing system support Single user, Multi-user and Trial licenses.
Single-user license
The single user license is personal.
A single user license is assigned to one Symetri user account.
It can be used off-line once activated.
The offline period is maximum 1 month without need for being online.
You can have the single user license activated on two computers, but you are not allowed to use them simultaneously.
It is possible to deactivate the license on computers and active on other computers.
The license is time-restricted based on your contract and is automatically updated when renewed.
Multi-user license
A Multi-user license can be assigned to multiple Symetri user accounts.
All users assigned to the license share a pool of seats.
A seat is taken from the pool when you run a Naviate tool for that application (or when running a tool in Naviate Accelerate).
If all seats are taken by other users, you will not be able to run the tool until a seat has been returned to the pool.
A seat is returned when ending Revit/Naviate or when logging out from Naviate.
You must have an internet connection to use multi-user licenses.
The license is time-restricted based on your contract and is automatically updated when renewed.
Trial license
If you have installed a Naviate application that you don't have a license for you will be asked to start a Trial. The Trial is valid for 1 month and can be activated once per computer. Once you have started a Trial you can use the Naviate application off-line during the trial period.
If you answer No when asked to start a trial you will not be asked again when starting Naviate unless you logout and restart Naviate.
Symetri License portal
The Symetri License portal is a web application that you can start from Help ribbon in Naviate or by using the link: https://license.symetri.com. Use your Symetri User ID to sign in.
As a standard user you can
See Naviate licenses assigned to your account
See started trial versions
Deactivate a license one a computer
As a license administrator at you company you can
See all licenses owned by the company
Add or Invite users to your company
Remove users from your company
Assign and unassign licenses to users in the company
Read more about how to manage your licenses here.
NOTE! Only licenses for Naviate 2022 are managed by Symetri License portal. Older versions of Naviate still uses the FLEXlm licensing solution.
Improved Ribbon
Re-worked and renamed the Naviate Ribbon to reduce clicks to find and start Naviate tools
All general tools included in Naviate Architecture, Structure, Electrical, Site & Landscaping, HVAC & Plumbing and Landuse have got an updated Ribbon menu named [N] Accelerate (was called Naviate).

We have made the following changes
Placed frequently used tools as buttons in the Ribbon panels instead of as an item in a pull-down list
Use Split buttons instead of some short pull-down menus that allow starting the first tool directly without open the pull-down menu
Remember last used tool for some split buttons where applicable
Replaced some long pull-down menus with a button to activate a separate Ribbon for those tools
Divided the Ribbon into smaller panels for better experience when resizing Revit UI
Removed the Fire & Acoustic tools
Where is my favourite tool?
Use this link to find where a tool in Naviate 2021 Ribbon are placed In Naviate 2022 Accelerate ribbon
Separate application
The tools in [N] Accelerate Ribbon are still included in the applications mentioned above but is technically an own application called Naviate Accelerate. Naviate Accelerate is automatically installed with Naviate Architecture, Electrical, HVAC & Plumbing, Landuse, Structure and Site & Landscape and use those licenses as before. But it can also be can be purchased and installed separately.
If you for example have bought and installed Naviate Architecture, the Accelerate application is also installed and you can run all tools on your Architectural license. But when updating or uninstalling Naviate the Accelerate applications is a separate application. The is also the case for the Help tools that are included in all applications; it is technically a separate application but included in all Naviate application.
Quick PDF Export
Export current view or sheet, a selection of views or sheets or a complete sheet list with a few clicks.
The new tool creates PDF files for current selection using the selected PDF Export setting. Similar to Quick Print you can preselect a number of Sheets or a Sheet list in project browser and start the tool. But Quick PDF Export also allow pre-selection of views or a view list. If you start the tool without pre-selection the current sheet or view will be printed.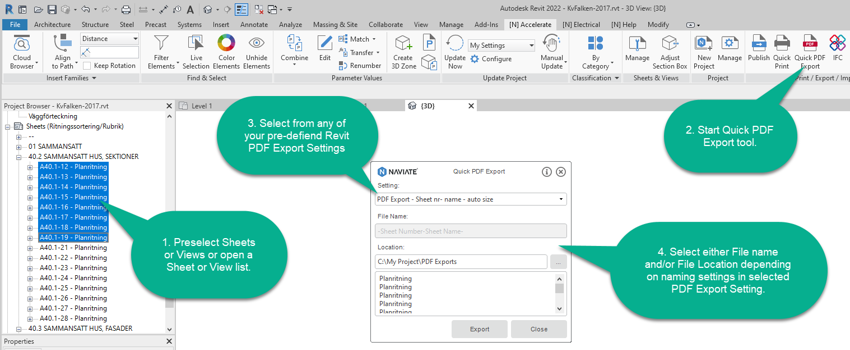 Select what PDF Export setting to use and file location or name. PDF Export settings are configured in the PDF Export tool found in Export tab in Revit File Menu.
Publish PDF-files
Configure Publish to export PDF-files without using a PDF-printer driver.
You can now configure PDF Exports in Publish that let you create PDF-files directly without the need for installing and configuring a PDF printer driver. You have the same option to select what Sheets or Views to export as you have when printing, a Sheet Set, A Sheet or View Schedule or by using a specified parameter & value.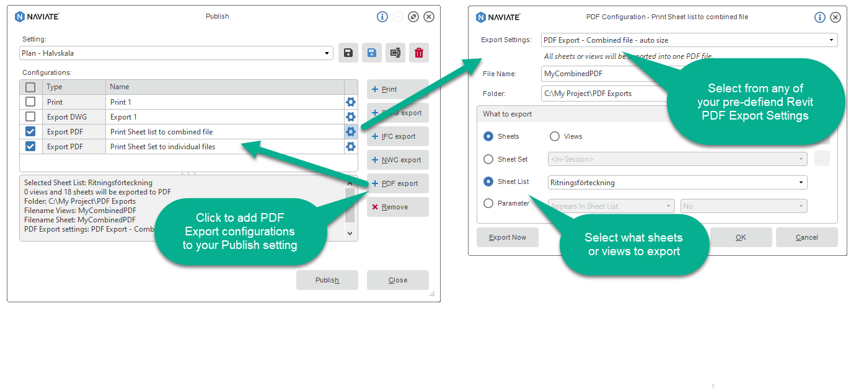 Filter Elements using Type Name parameter
Use Type Name parameter to find and select elements using Filter Elements.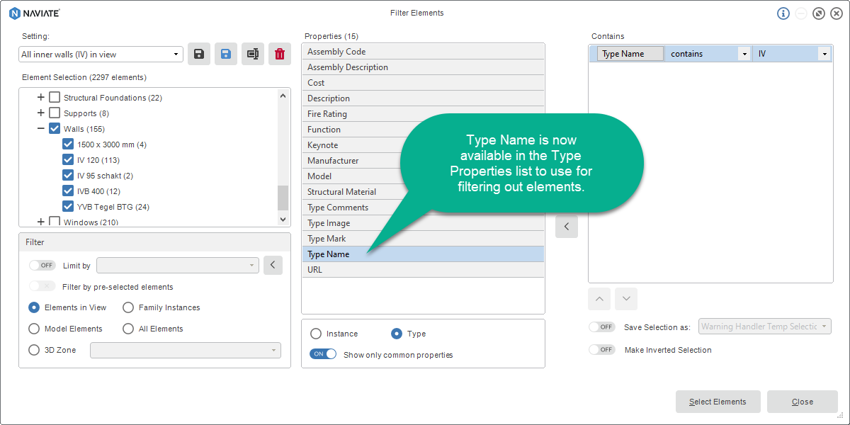 Bug fixes
We have changed the way some Naviate Tool save data in the projects to improve performance and avoid "There was an error generating the XML document" issue that could occur occasionally in individual projects.