Release news Naviate for Revit
Naviate Landuse September Release 2021
Updates in Naviate Accelerate, part of all Naviate products except Rebar and Daylight. Highlights includes improvement to Configure Parameter, Shared Coordinates  and Cloud Browser.
Create Zone Areas

KOF Import

Room Surface
Configure Parameter Improvements
You can now control which default parameters that should be created. No parameters are created when starting the tool.
We have made several improvements:
Choose if the default parameter should be created now or when the updater run for first time
See if a parameter already exists in the project
Added new status symbol for Categories for Shared Coordinates parameters. The updater will always change the parameter to include the categories selected when running the tool; no need to define the parameters with correct categories from start.
The tool starts faster since no parameters are created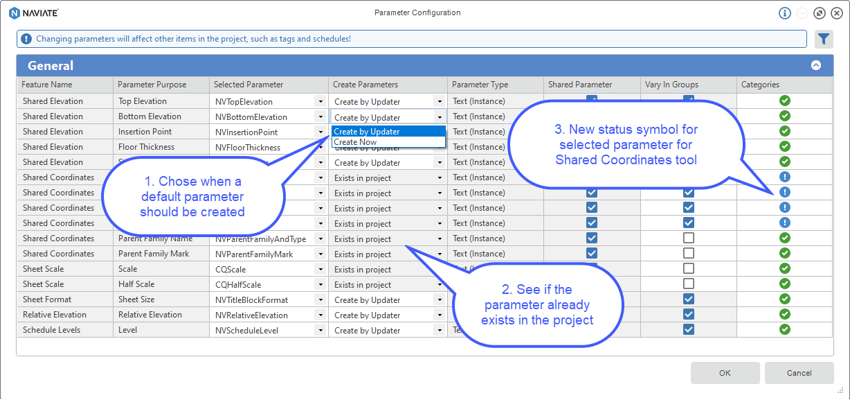 Shared Coordinates / Elevation Improvements
Choose to convert values from mm to m and configure number of decimals to displayed when using TEXT parameters.
When you have configured to use TEXT parameters for Shared Elevation and Shared Coordinates in Configure Parameters you can chose how the values should be converted from LENGTH to TEXT when updating. Chose how the value should be converted and how many decimals to show.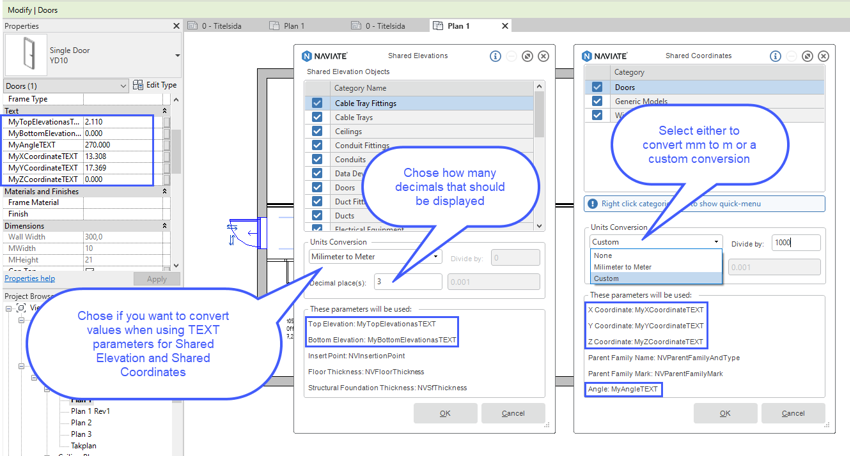 Publish to Naviswork
Include exports to Naviswork in Publish tool.
You can now use Publish to also export NWC-files. Select what 3D view to export; what settings to use and output file. You can configure Publish to export any number of NWC-files using different export settings. The settings are stored in the project so everybody using Publish in the project will export with same result.

Note! You need to install the free Autodesk Navisworks NWC Export Utility to be able to export NWC-files using Publish. It is possible to configure NWC Exports in Publish without the export utility.
Cloud Browser Improvements
Find an open Revit Project files containing System Family Types, Schedule, etc. to copy into your project.
You can now find, and open Project Files included in Naviate that contain System Families, Schedules, Repeating Details etc.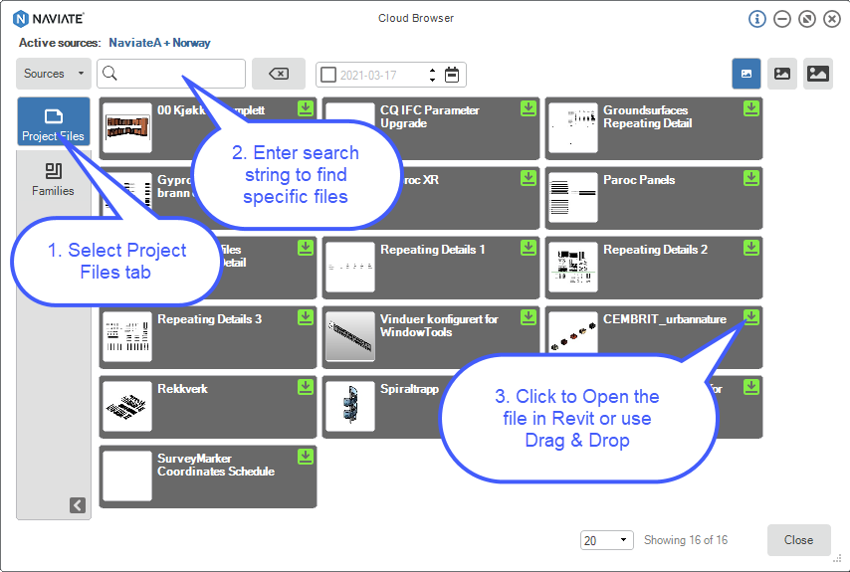 Color Elements Improvements
You can configure a colour to use for <No Value> that isn't used for other values.
We have made the following changes to make it easier to review parameter values on elements in the view:
You can specify a specific colour to always use for elements without a value set on the parameter
Configured colour for <No Value>, or Red colour is not used for elements that has a value
Elements without a value is not coloured by default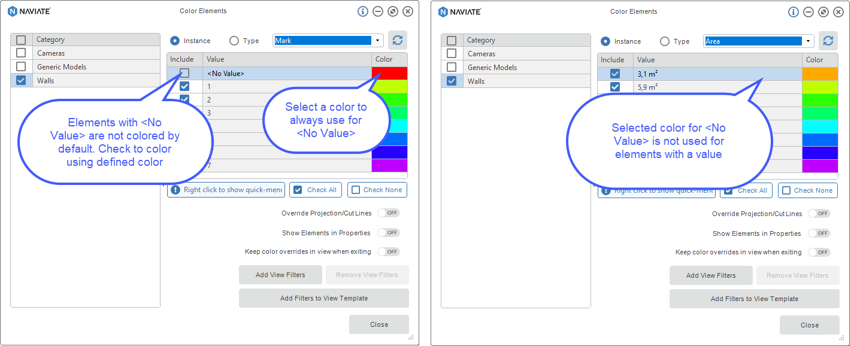 Edit Parameter Values Improvements
Easier to select what parameters to show and faster to use.
We have improved performance and user experience by allowing you to select what parameters to show directly after selecting the Category to edit. We have made the following changes:
Improved performance when starting the tool
Easier and faster workflow by first selecting Category to edit and then to edit Type or Instance parameters
Easier selection of what parameters to show
Progress bars with Cancel option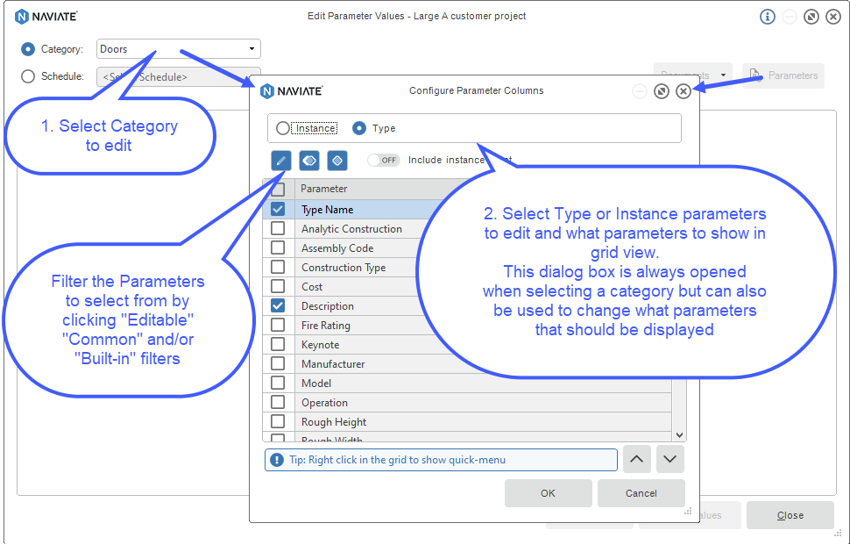 Edit Parameter Values on Multi-category Schedules
You can now select Multi-category schedules to edit parameter values.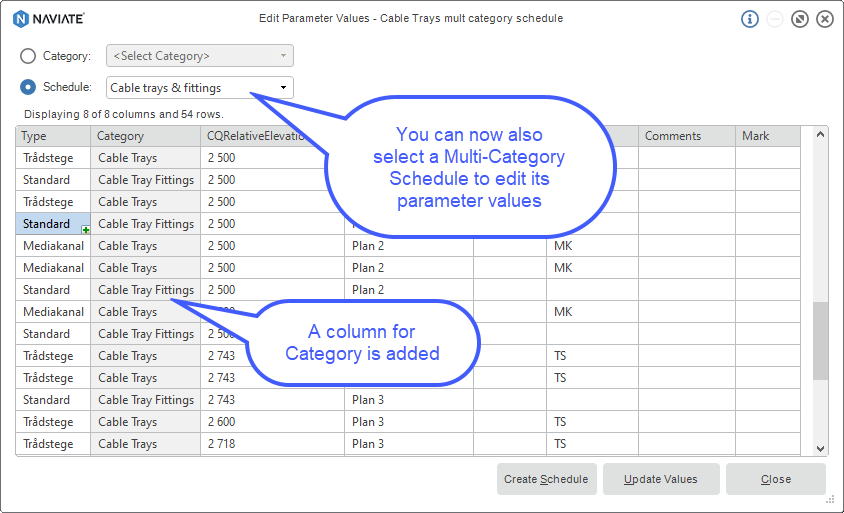 Edit Sheet Parameter Improvements
Allow choosing origin point when editing view locations on sheets.
We have added a View port origin selector so you can control what points of the view you see to make it easier to align views to a side or corner on the sheets.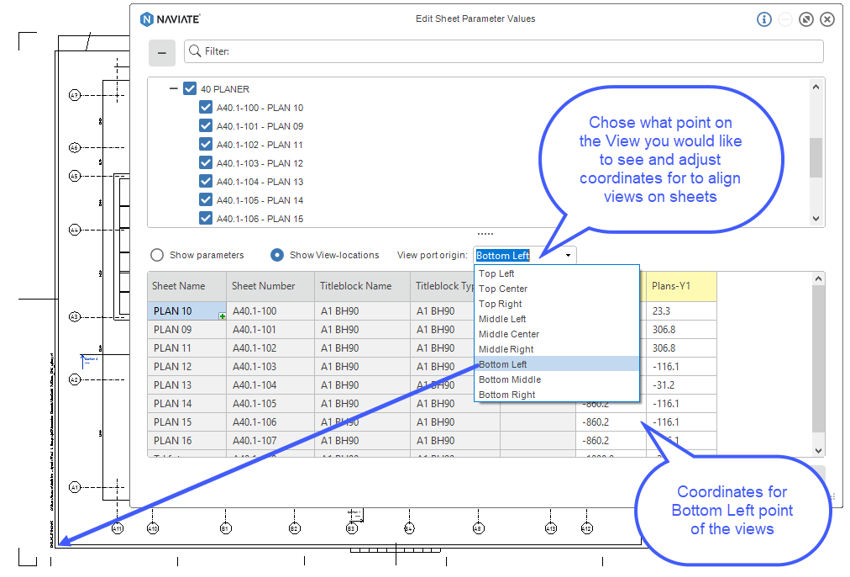 Custom Increment when editing parameters
Choose what part of a text that should be incremented when using "+drag" functionality on cells.
We have added "Custom increment" option to increment parts of for example a Sheet Number in the "+ drag" functionality available in Edit Parameter Values, Edit Sheet Parameters and Create Sheets from Plan Views tools. It is available for all text parameters in these tools.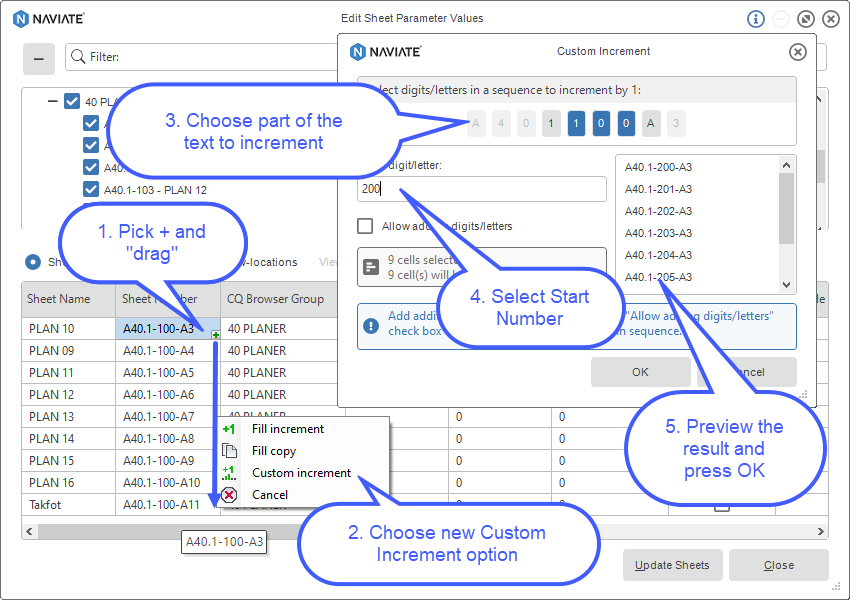 We have also added the ability to Cancel the "+ drag" operation without updating the values in the cells.
Type Drawings Improvements
You can now configure what parameters that should be used for Title Name for the Type Data on the Sheet.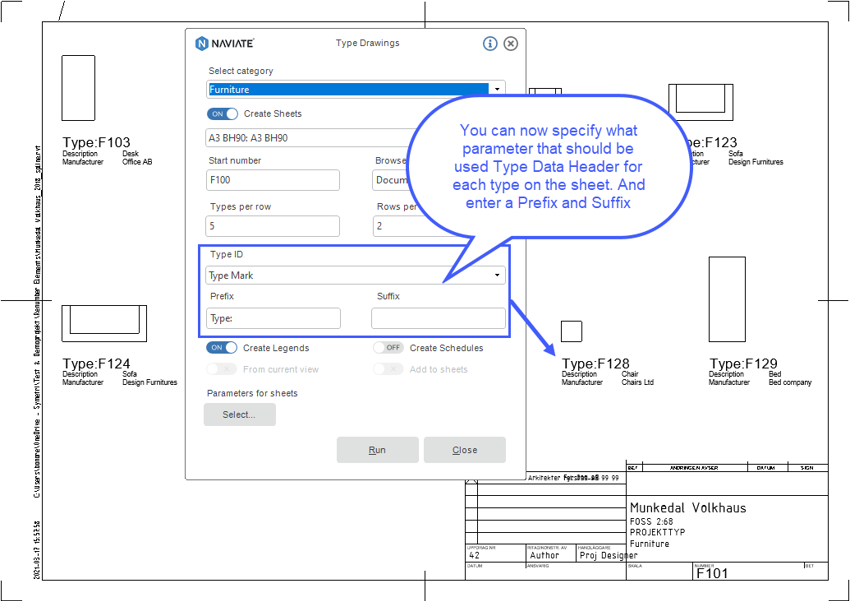 Edit Sheet Revisions Improvements
You can now create a new Revision and edit it in the Apply Revisions to Sheets tool. No need to end tool and use Revision tool in Revit anymore.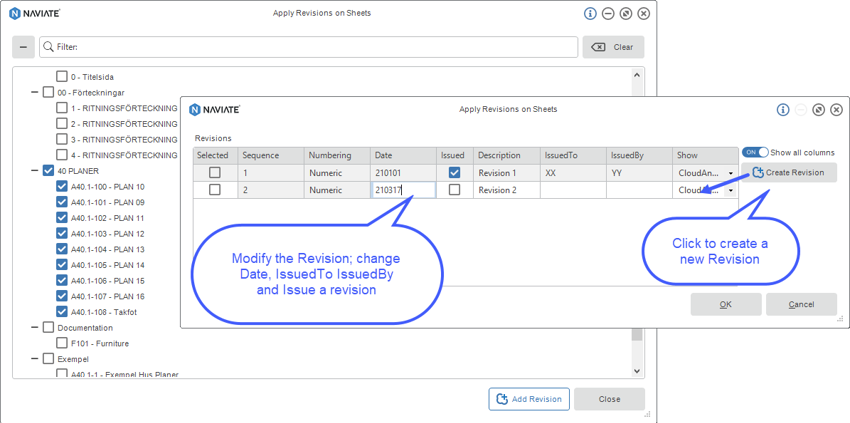 Update Sheet Revision Parameters
You can now create a new Revision, create a Sheet Schedule for a revision and delete parameters for old revisions in the tool.

The Sheet Schedules that are created for the Revisions will show all Sheets that contain the Revision and the Parameters that are created for each Revision on the Sheets.

Quick Print UI Improvements
Easier to configure to print Sheets with multiple sizes.
We have changed the dialog box to make it easier to know what will be printed and what paper size that will be used.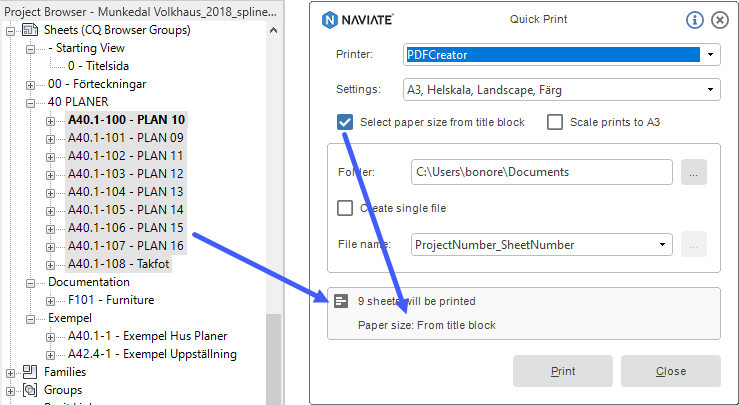 Bug fixes
We have fixed the following issues:
Cloud Browser: Fixed an error that could occur when inserting a family already existing in the project
Edit Parameter Values: Fixed an issue editing Showing Rebar Schedules using Comment parameter
Edit Parameter Values: Closing the tool using X will not undo updates made in the tool anymore
Edit Parameter Values: Fixed issue with hidden column in selected schedule
Transfer Calculated Values: Fixed issue with multiple parameters named "ElementId" that was created by the tool
Color Elements: Fixed some issues connected to creating View Filters
Classification: Type option disabled if not support6ed by selected standard
New Project: Fixed issues with missing icons in Revit Status Bar and remembering "Use Revit New Project" setting
Project Clean-up: Fixed an issue when deleting CAD Imports
Parameter Configuration: Fixed an issue with TEXT parameters for Shared Coordinates that was not remembered as Shared
Shared Elevations: Fixed issue with round windows
Shared Coordinates: Improved performance
Create Sheets from Plan views: Information messages no longer show up on top of each other
Edit Sheet Parameters: Closing the tool using X will not undo updates made in the tool anymore
Edit Sheet Revisions: Improved performance when starting the tool
Provision for Voids: Fixed and issue causing errors with projects with "ghost" Duct Insulations