Release news Naviate for Revit
Naviate Landuse September Release 2021
Updates in Naviate Accelerate, part of all Naviate products except Rebar and Daylight. Highlights includes a new 'What's New' pop-up, a new Live Selection and improvements in Cloud Browser.

What's New pop-up (new) (2020.1.7 and 2021.1.2)
Learn about new and improved features in latest installed versions.
We have added a pop-up dialog that show when starting Naviate after an update.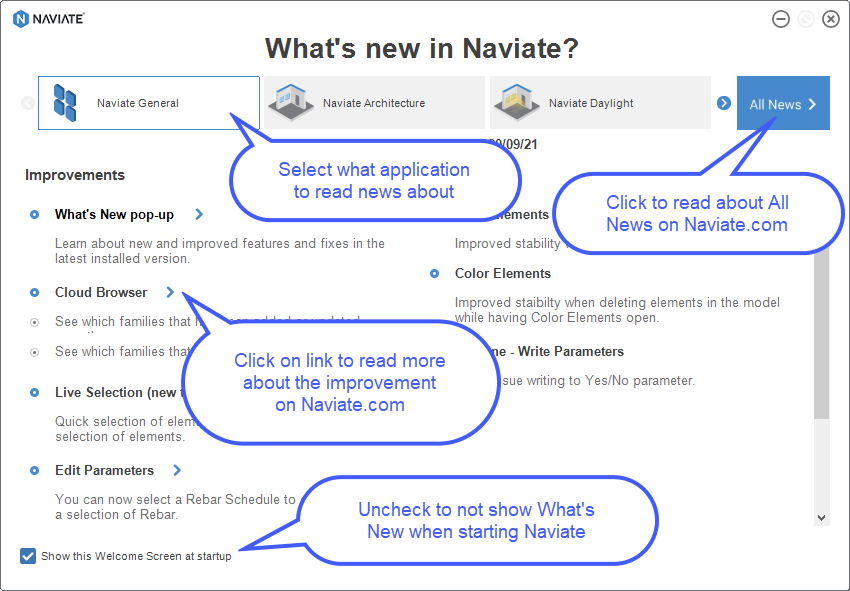 You can read about improvements on the Accelerate part of Naviate and for the applications you have installed. (Accelerate is included in all applications except Naviate Daylight and Naviate Rebar Extension). If you don't want to see the pop-up when starting just un-check "Show this welcome screen at startup". The pop-up will not be displayed until you update Naviate again.
The pop-up window is floating, and you can continue work in Revit/Naviate with the dialog box open. You can also access the What's New pop-up from the Naviate Help menu.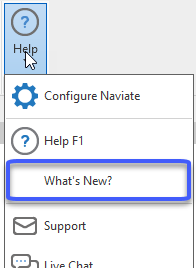 Cloud Browser
Added and updated Families (2021.1.2)
See which families that have been added or updated recently.
You can now choose to see families that have been added or updated in the Cloud Content database after a certain date. First select what Main categories and for example Category to search for and then apply the Date filter.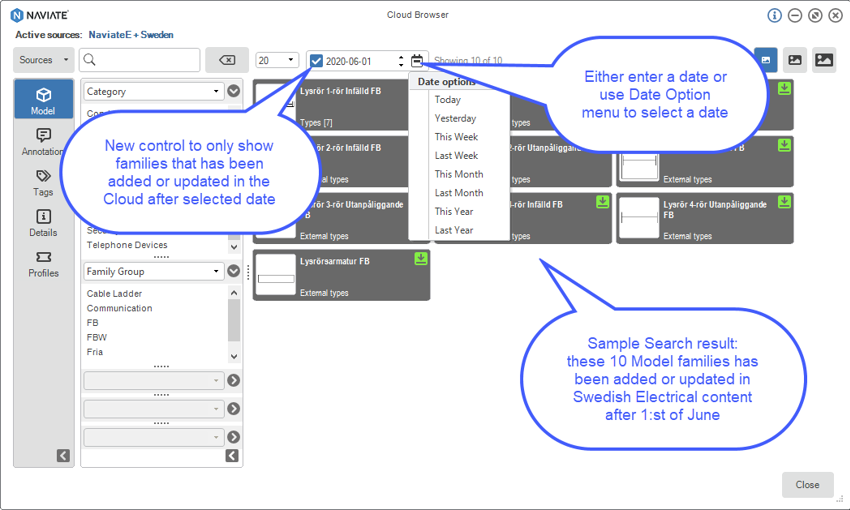 Project Families (2021.1.2)
See which families that are loaded in the project.
We have also made it easy to see if a family that you search for already is loaded in the project. Instead of the Download icon you see an Update icon on the family card. Click on Update icon if you want to reload the family into the project.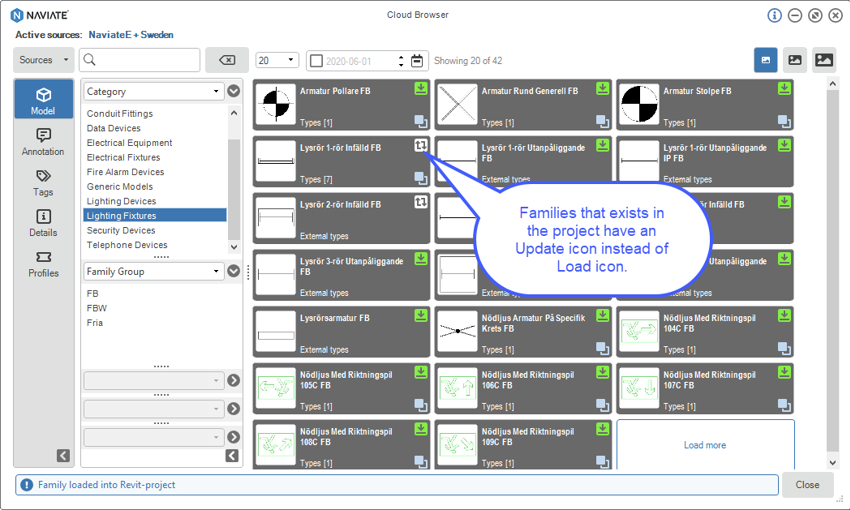 Live Selection (new) (2021.1.2)
Quick selection of Elements in active view or filter current selection of Elements.
This new floating tool let you:
quickly select elements in the current view
do additional filtering of elements that you have selected in Revit
Choose what should be selected in Revit by checking Categories, Families and / or Types in the tree view (just like the Filter Elements tool in Naviate). Since it is floating dialog box you can have it open during the entire Revit session and quickly select elements whenever you need. You can easily switch between the two different modes of operation.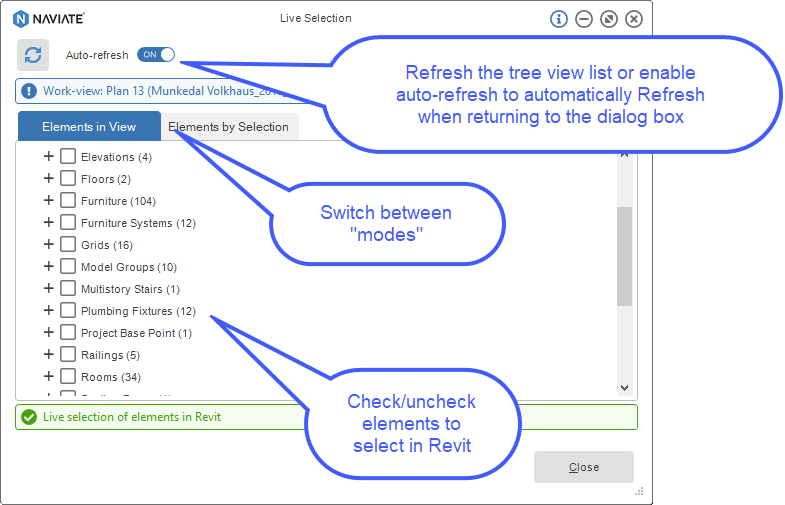 Elements in View
In this mode you can select elements in the view just by checking nodes in the tree view.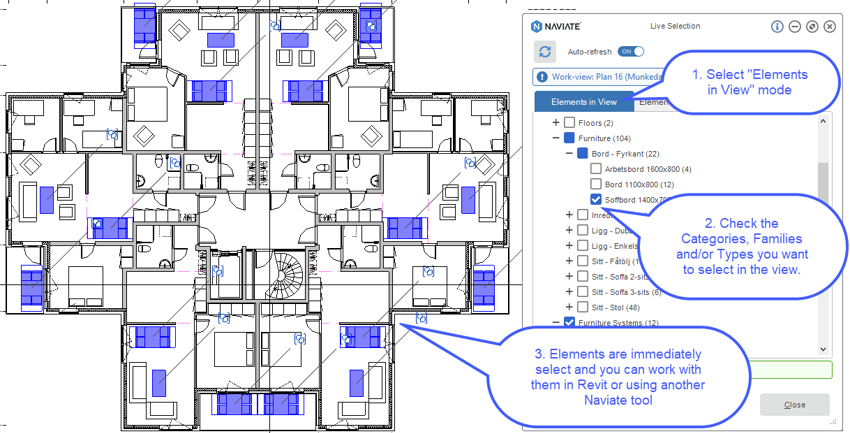 By enabling the "Auto-refresh" toggle the tool will automatically update the content of the tree view if you have added or deleted elements or If you have switched view or project. If "Auto-refresh" is disabled, you can manually refresh when needed.
Elements by Selection
In this mode you filter on elements that have been selected in Revit similar to Filter tool in Revit. Here you can do detailed filtering on Category, Family and / or Type.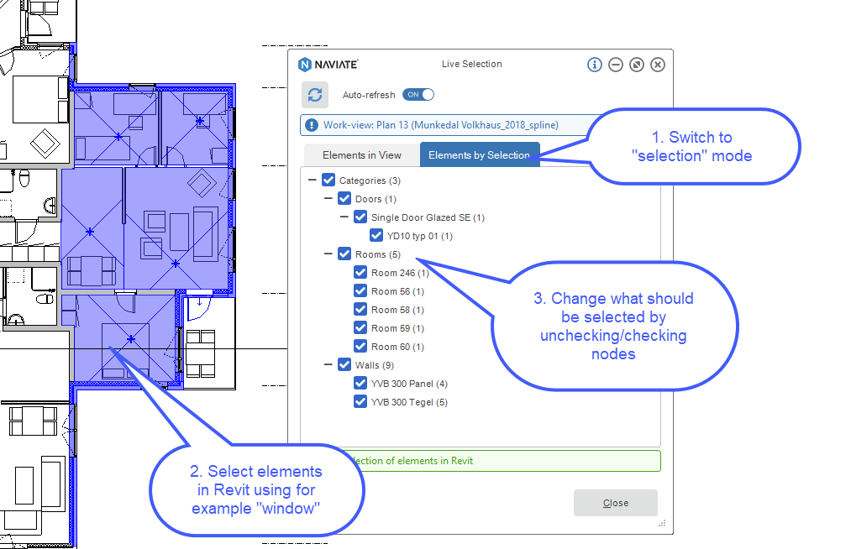 Shared Elevation (2020.1.7 and 2021.1.2)
Non sloped structural framing elements are now updated with Shared Elevation.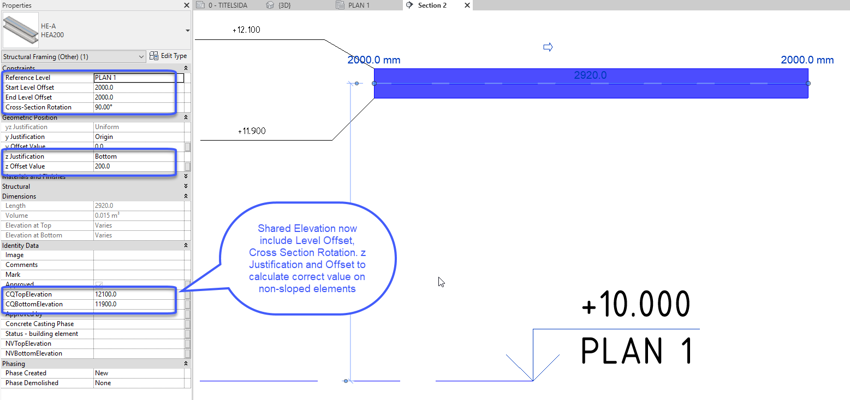 Schedule Level (2021.1.2)
Configure what Parameter the updater should write to.
We have added Schedule Levels to Configure Parameters tool to allow you to select what parameter to use.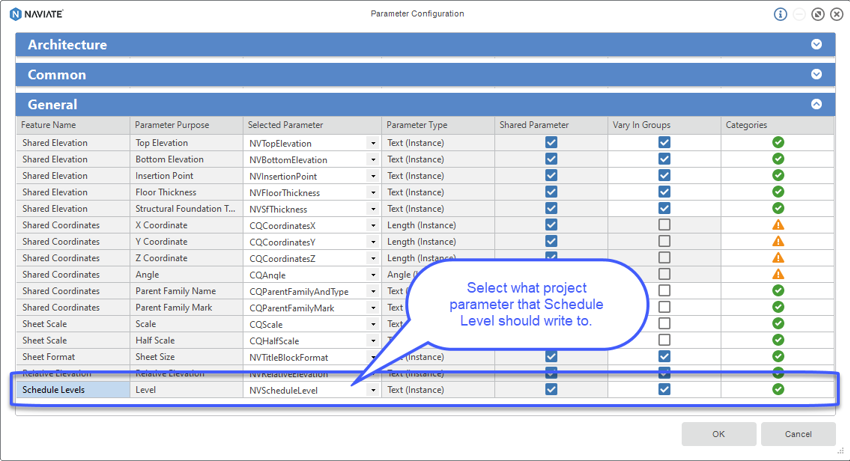 Edit Parameters (2020.1.7 and 2021.1.2)
You can now select Rebar Schedules in Edit Parameters. Only the rebar filtered out in the schedule and the parameters from the schedule are displayed.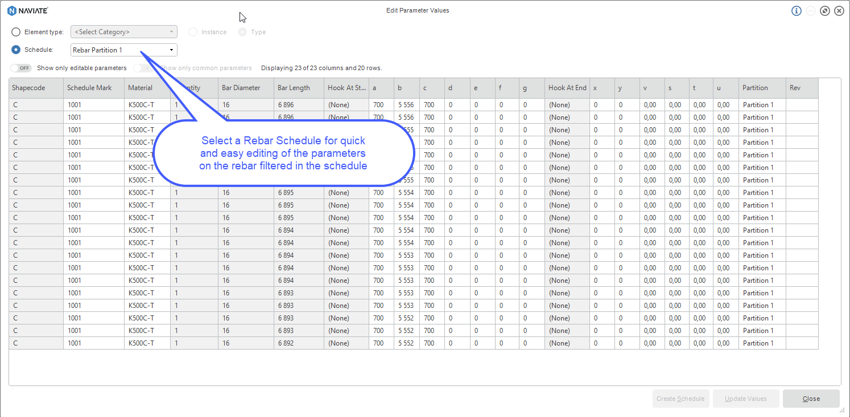 Bug fixes
We have fixed the following issues:
Filter Elements: Improved stability when using Direct Shape elements
Color Elements: Improved stability when deleting elements in the model while having Color Elements open.
3D Zone – Write parameters: Fixed issue writing to Yes/No parameter