Release news Naviate for Revit
Naviate Structure December Release 2022.1.3
Updates in Naviate Structure. Highlights include new functionality for Offline Usage and new feature Openings. Improvements to Rebar Placement, Tag Rebar, BVBS Code and Group Rebar.

Changes is available in version 2022.1.3
New! Openings
Adjust reinforcement of slab, floor or wall to the structural openings.
This new feature will trim all reinforcement bars to any rectangular opening within a floor, slab or wall just by selecting opening. All rebars will be trimmed back to the cover settings and the ones inside the opening will be deleted. Openings feature supports openings created as a generic family opening (cut opening and cut in proportion opening), opening by face, vertical opening and shaft opening. Circular openings are not supported.
Rebar Placement
Show all layers/positions of reinforcement placed into concrete elements and configure the layers names.
Rebar Placement feature is improved to support/report the detailed position of reinforcement placed into the concrete elements by clearly marking each layer position at top/bottom or at far face/near face (example: OK1, OK2...UK1, UK2 or T1, T2....B1, B2).

You can now configure how the Layers should be named in Configure reinforcement, Layer Settings.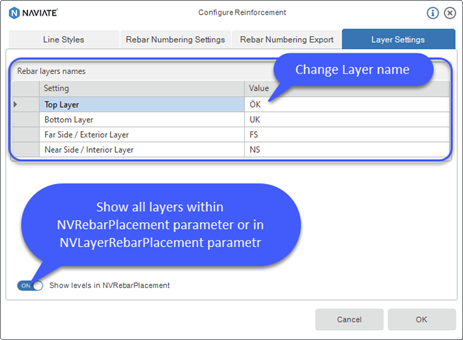 Tag Rebar
Choose where to place Multi Rebar Annotation tags.
You can now choose how and where the MRA tag will be placed, there are three Tag Placement option available:
Place tag on dimension/extrusion line, inside the structural element
Place tag aligned with the rebar, outside the structural element
Place tag aligned with dimension/extrusion line, outside the structural element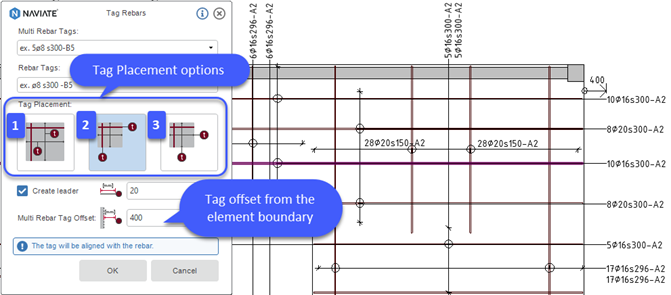 For tags placed outside the structural element you can specify distance/offset from the element boundary (Multi Rebar Tag Offset).
Update BVBS Code and Export BVBS
Create BVBS code for a Continuous Length rebar shape and update BVBS Code parameters when BVBS export is generated.
We have made following improvements:
Support Continuous length reinforcement (Running meter positions) in the BVBS export and BVBS Code updater
When exporting reinforcement to BVBS export, BVBS code parameters are updated or created for the rebars in project that are part of the export (partition)
For field identifiers that have no value nothing is written in the code string
Do not show decimals for length value or bending pin value in BVBS code string
Group Rebar and Move Rebar
Group single rebars into a rebar set. Rebar set that is moved and aligned remains as rebar set.
You can now group single rebars into the rebar set, with Fix Number as default Layout rule (in Revit properties you can change to any other Layout rule).
Grouping rebars into the rebar set instead of creating rebar container allows you correct tagging and provides more functionality with the instance properties.
Move Rebar is also improved to keep rebars in rebar set while moving and aligning rebar set to specified surface.

Note! You can still create rebar container from single rebars using Rebar Container feature.
Bug fixes
Rebar Numbering: Fixed issue with missing data in partition and filter list when updating project from Revit 2021 to Revit 2022
Rebar Numbering: Fixed issue in workshare environment
Tag Rebar: Now supports tagging rebars in Detail view
Pile Numbering: Fixed issue with numbering piles (subdivide by host) hosted in the rotated structural element
Pile Extend/Trim: Now supports pile families that have parameter NVType
Draw Top/Near Symbols: Fixed issue with placing symbols on the rebar that has edited (moved/removed) position in a rebar set