Release news Naviate for Revit
Naviate Accelerate June Release 2023.1.1
Updates in Naviate Accelerate. Highlights include a new Cloud Content Manager, and Re-save Families. In addition to improvements to Update Project, sort order of Views and Sheets and Setting options.

Changes is available in version 2023.1.1
New! Cloud Content Manager
New feature with improved Search and Filtering for Naviate Families.
We have replaced the Cloud Browser with Cloud Content Manager. This new feature uses web technology in the user interface for a faster and better user experience when searching and filtering families.
Cloud Content Manager has similar functionality to Cloud Browser. The key benefits are:
Choose "content packs" to look for families or project files. Default setting is the content for the installed Naviate applications for the configured country.
Free text search to find families that has a certain text in the name
Drag & Drop a Family to insert it in your project
Load a family into your project without inserting it
See if a family already exists in your project
Reload a family to update it
Select Type to insert when Drag & Drop of a Family with External Type Definitions
Select Type(s) to load when loading a Family with External Type Definitions
See Type and Parameter information of a family before loading or inserting it
You can keep the tool open while working in Revit for quick access since it is a floating dialog box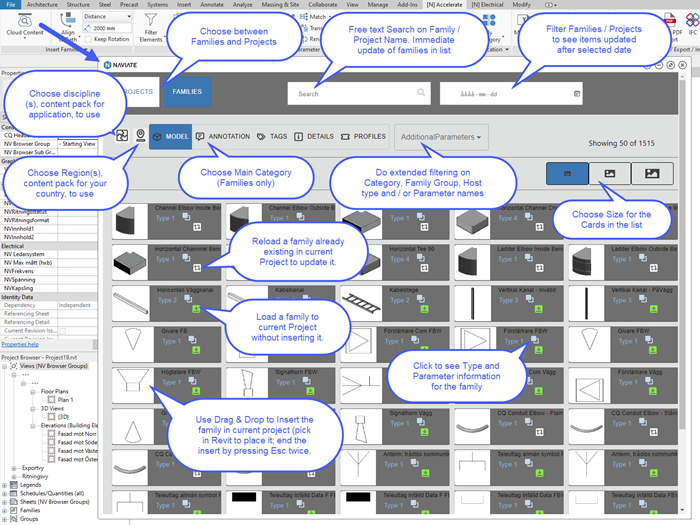 Tips: easy access
For quick access to the feature keep it open while working in Revit. You can either minimise it or move it to another screen. If you have minimised it; click the Cloud Content icon on the Accelerate ribbon again. Or click on the preview when hovering the Revit thumbnail on the taskbar. By doing that you avoid the waiting time when starting the feature. Once started, searching and filtering are much faster than the previous Cloud Browser feature.
Select content pack to use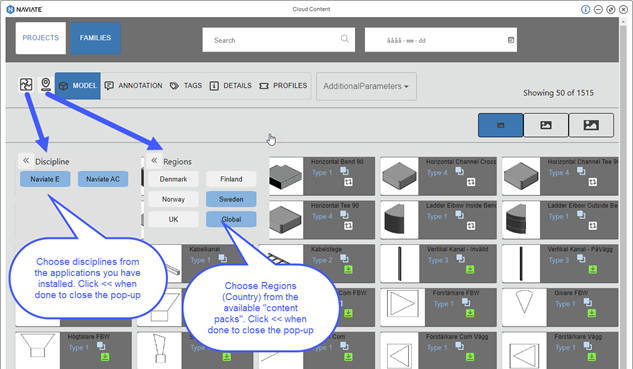 Families with external type definitions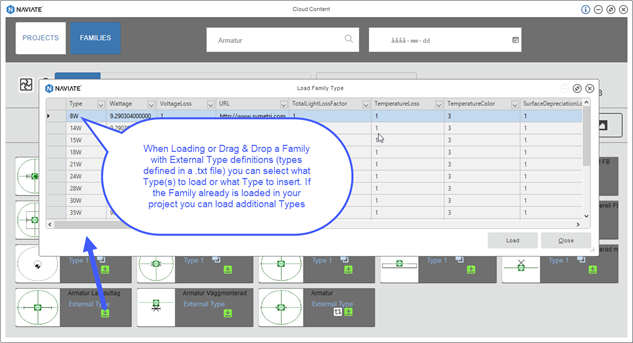 Filter using additional parameters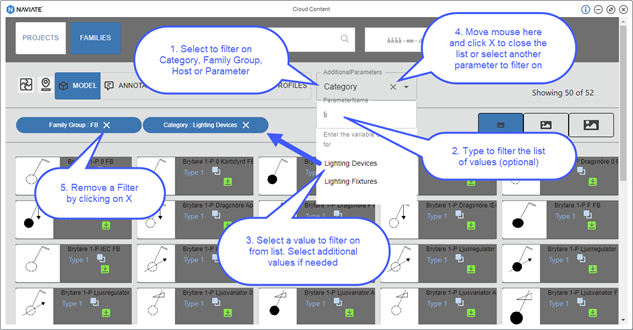 See type and parameter information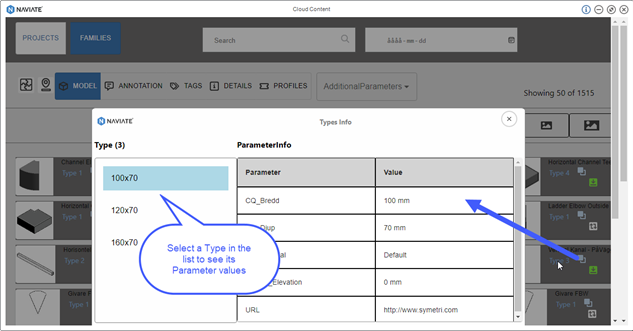 New! Re-save Families
New feature for updating families in a folder structure to current version.
Use this feature to automate resaving of families you have on disk to the current Revit version. Key benefits are:
Re-save all families in selected folder with possibility to include subfolders
Possibility to automatically remove the backup files from included folders
Get a log-file for checking what families that was successfully resaved
Possibility to set URL parameter on all families
Possibility to create preview images for each Type of the family and save in the family as Type Images for use in Schedules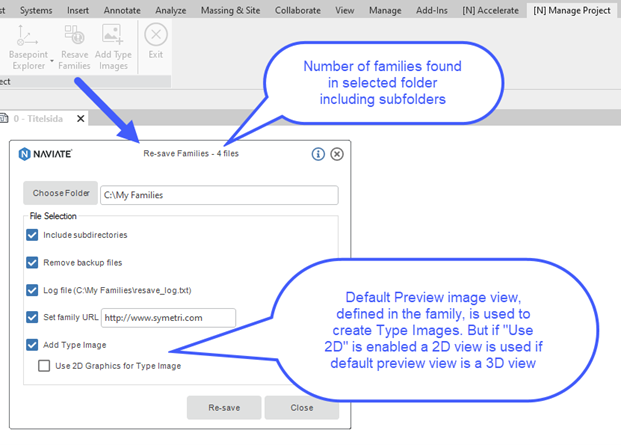 Update Project
Better overview of all updaters and ability to add individual updater to Revit Quick Access Toolbar (QAT). We have renamed and improved the Settings dialog box for easier access to updaters. We have also added an option to add updaters to the Revit Quick Access Toolbar to give easy access to the updaters you use often. The drop-down menu with a subset of the updaters from Accelerate has been removed.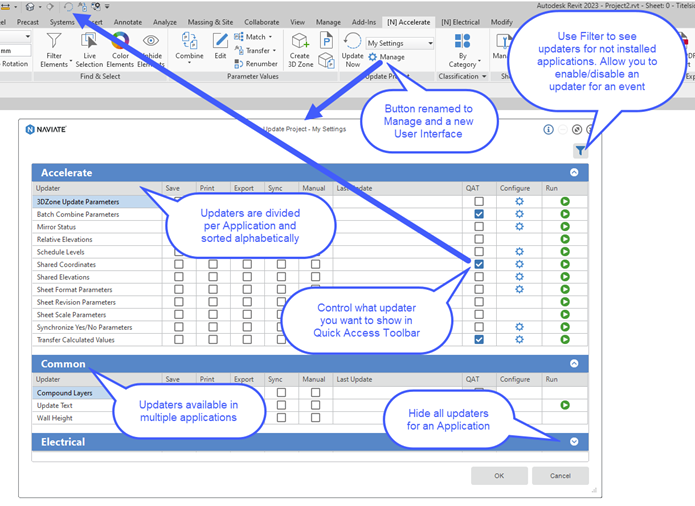 Sort order of Views and Sheets
Sheets and Views that have special characters in the beginning are now sorted in same order as in Revit.
We have improved many of our features that show Revit elements in alphabetical order to show them in the same order Revit as do. Before there was a mismatch with elements that had special characters in the beginning of their name (we used to ignore some leading special characters and sort on first alphabetical or numeric character; Revit includes them when sorting).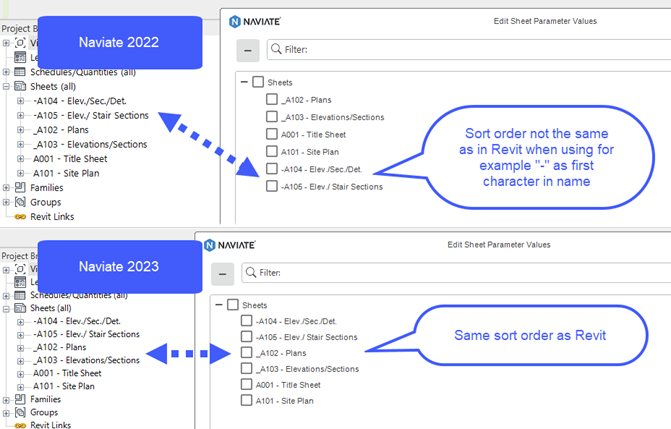 Settings
Turn off What's New and Naviate New Project features showing by default when doing a scripted install.
It is now possible to control if Naviate What's New should be displayed when starting Naviate and if Naviate New Project should be used when creating a new project in Revit. By default, both features are enabled when you install Naviate. We have added an option to turn them off when you do a scripted install if Naviate.
Use the parameters WHATSNEW and NEWPROJECT and set them to 0.
Example: msiexec /I "<msi>" WHATSNEW=0 NEWPROJECT=0 /qb
If the features are disabled when installing it is still possible to use the features from Naviate Help and Accelerate ribbons. It is still possible to enable / disable them when using the features.
Fixes
Create Dependent Views improvement: Fixed an issue with Views created wrong when having View Types with same name on different kind of Views
Place View on Sheets: Fixed issue with projects containing Assembly Views
Renumber: Fixed issue with using the tool to Renumber Areas in a View without color scheme
3D Zones: Improved stability in tools creating and using 3D Zones
Edit Parameters: Fixed issue that some read-only parameters where listed when filtering on Editable parameters
Publish: Fixed issue with printing Sheets from linked files if the Name of link instance was changed to include a space
Create Sheets: Fixed an issue related to having multiple instances of same link
All applications: Fixed issue when having too many add-ins with own Ribbon Tabs (Revit has a limitation of 20 custom tabs)
Multiple tools: Fixed issue with losing saved settings when doing Undo directly after a tool is used for the first time when a model is upgraded from earlier Revit version.
SOSI Import (Norwegian version only): Fixed issue when running import after removing coordinates from CQOrigio parameter
Edit Sheet Parameters (UK version): Parameters named Revision are no longer filtered out in the UK version